Network Roll-Out Management
SunVizion Network Roll-out Management is specially designed to support network roll-out processes. The system speeds up network rollout, reduces its CAPEX and improves key business processes related to network built-out and maintenance.
The solution is perfectly suited for carrying large amount of non-process data related to network rollout process, for example, information acquired during site survey. It seamlessly share this data between different processes and provide access to non-process data after the process termination. This prevent huge inefficiencies resulting, for example, in repeated data entry, data inaccuracy, inconsistency and under-utilization.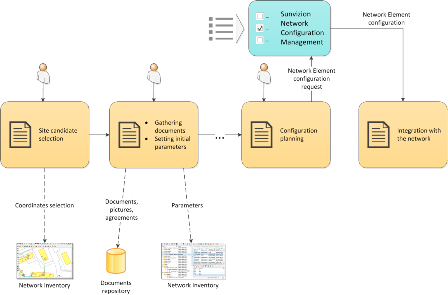 The solution consists of following modules:
Workflow - responsible for processes of site planning, location, approval and acquisition, site design, construction of infrastructure objects, installation of new devices, swap of existing devices, modifications of devices
Network Configuration Management - responsible for configuration of new devices, reconfiguration of existing devices, launching of new services
Network Inventory - responsible for aggregating key network data and to smartly use it for improving and optimizing vital business processes related to network investments, rollouts, and operations as well as to overall enterprise business performance.


---
SunVizion Network Roll-Out Management features:

Accelerates work cycle times - automation of all manual activities spent for documents, faxes, paper files transferring and reduction of unnecessary processing delays in those activities
Improves productivity - all work tasks are assigned to relevant resources, prioritized and subsequently passed to resource that should finish the task or process in optimized manner
Controls user process - each user (or group of users) of the system has mechanisms available to track the status of the processes assigned to the user tasks lists; the system takes care about mechanism related to authorizations and on-line monitoring of users activities.

SunVizion Network Roll-Out Management additional features:

Reduces delays of the investments processes and costs related to them
Significantly reduces time and cost of devices modifications, optimizations and adjustments
Significantly reduces workload of network configuration departments
Eliminates negative effects of introduction of error changes or introduction of modifications which are mutually exclusive
Provides advanced reconfiguration planning capabilities


Provides

monitoring of status

progress and

key parameters of

the investment

Provides

cross-sectional

data in the form

specifications and reports

.

---
Example of process editor application
| | | |
| --- | --- | --- |
| Devices swap | Update for regulator preparation | Device parameters setting |
| | | |
---
Example web applications
| | | |
| --- | --- | --- |
| Worker task | Task details | Ticket |
| | | |