SunVizion Network Performance Monitoring solution is specifically designed to detect telecommunication network performance degradation and ensure service assurance. The system improves operational efficiency and significantly reduces total cost of ownership.
What is network performance monitoring?
The solution monitors the correct functioning of the network by analyzing KPI parameters defined by the user. The detailed performance information gathered by the system provides increased visibility into the network performance and allows to improve the quality of service. Because the solution provides the real-time access to data staff can quickly respond to any deviation from the standard behavior of the network. SunVizion Network Performance Monitoring also helps to solve network failures more effectively and helps to do better network-capacity planning.
Real-time monitoring
Real-time network monitoring
Alerts of performance degradation in real-time
Flexibility and high scalability
Ready for integration with other web-services
Compatible with wide ranges of services, technologies and protocols (UMTS, EVDO, IP/MPLS, LTE, WiMAX)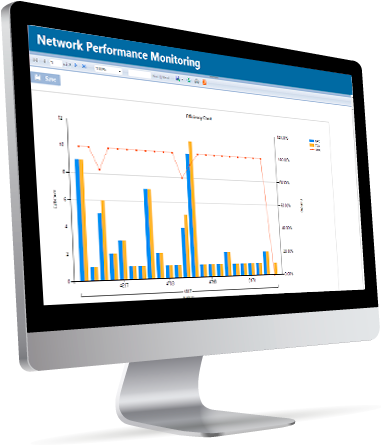 Easy and flexible reporting
Easy examination of KPI reports
Flexible and smooth editing of KPI reports by designing tool
Support for most typical reports describing network behavior
Possibility to customize specific KPI reports
---
Multi-level
Multi-level analysis
Ladder diagrams for better presentation
KPI designer independent of network technology and XDR's types
User defining alert triggering conditions
Mechanisms to track the status of the processes assigned to the user tasks lists.
---
Benefits