Since the earliest days of long-haul telecommunications, the global network has been one of the most complex machines in the world. And in OSS, we have a "controller" that's responsible for monitoring and managing these interconnected network "machines." OSS inherits complexity from them. Therefore, the tendency is for OSS to also be complex.
They may be performing complex actions but OSS don't have to be complicated. In fact, there are great gains to be made for telcos around the world if they can be made less complicated, more accessible, more streamlined and more efficient. In short, more effective. The complexity can and should be abstracted from the user experience.
As Graydon Carter stated to Jony Ive (the Industrial Design leader at Apple during the creation of iconic products like the iPhone), the "iPhone is probably the most complex machine any of us have held in our hands and yet it came with no instructions."
Simplicity is the key
The iPhone has set a high bar for usability of complex machines. At SunVizion, we aspire to the same level of usability. Whilst nobody might expect to hold an OSS or the global telecoms network in their hand like an iPhone, they can come to expect to use them without instructions, or with as minimal instruction as possible.
In the same conversation with Carter, Jony Ive highlighted how abstract experimentation played a big part in the development of the revolutionary interface for the iPhone, "for many years abstract explorations into just multi-touch so we know we had these just big displays where you could pinch and zoom an image and there wasn't one person who played with that that wasn't completely captivated. And so from there grew this idea that most products up to that point in time make this massive trade-off. They have buttons that were too small to use comfortably and easily. And a display that was too small but it was like that because they had to share the same space as the buttons."
The user interface, which was arguably a key factor in the iPhone's success, started with the input-output device, the multi-touch screen. User testing then unlocked the insight that the interfaces of all other phones to that point were unnecessarily constrained by physical buttons and small screens. The touch-screen allowed buttons to be created in software, giving greater flexibility for developers.
SunVizion has also identified the opportunity that smart-phone touch-screens offer for OSS, particularly for the field workforce. With SunVizion OSS Mobile, field workers can actually hold the power of an OSS and networks in their hands.
It allows workers to not just see the part of the network that they've been assigned to work on, but also adjacent information about the network that can better inform their actions. The type of activities supported include service fulfilment, failure resolution, network or capacity planning and network maintenance. Other activities can be seen in the screen-shot below.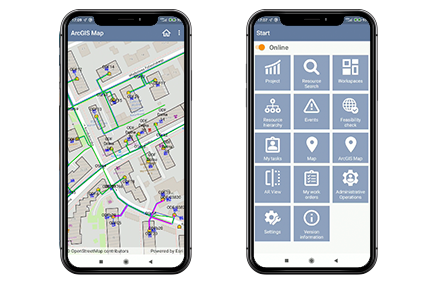 Perhaps more importantly, SunVizion Mobile provides a better way for reconciling and improving the data stored in SunVizion Network Inventory whilst the field workers perform their daily activities.
How does SunVizion Mobile work for the employees?
For example, let's say a worker is assigned an engineering order / design that includes updating patches at a pillar to activate a new customer connection. However, their first attempt doesn't successfully activate the service. The field worker identifies that the pair is damaged and marks it as a "dead pair" in the inventory. They then ask SunVizion Mobile to assign the next available pair for use instead. Records are updated immediately. This is far more efficient and expedient than the old approach, which relied on the technician performing a red-line mark-up (in the form of an as-built drawing) and sending it back to the records department. Head office then updated the data in the OSS, often days/weeks later and without a context of what was really happening on site.
Smart phones and smart mobility software enable field workers to be more self-sufficient, allowing them to adapt to unexpected situations rather than de-mobilising and initiating expensive follow-up truck rolls. This helps to improve metrics such as install / fix on first attempts. Solutions like SunVizion Mobile are providing field workers with the "controllers" to manage complex communications networks from the palm of their hands, whilst being so simple to use that they require little to no instructions.