SunVizion Service Fulfillment solution streamlines the process of making services available to subscribers, reduces time-to-market and increases customer satisfaction. Catalogue driven approach improves operational efficiency and empowers the whole product lifecycle from planning to service activation.
Telecom Service Fulfillment
SunVizion Service Fulfillment architecture includes internally pre-integrated and ready for external integration through built-in service-oriented architecture following modules: Service Inventory, Service Catalogue, Workflow driven Service Order and Provisioning Orchestration, Resource Management, Workforce and Material Management.

Catalog driven approach

:
Agile implementation of fulfillment processes.
Rapid introduction of new products and services
Possibility of automatic reconfiguration of the process during its execution
No need of regression testing after implementation of a new service
---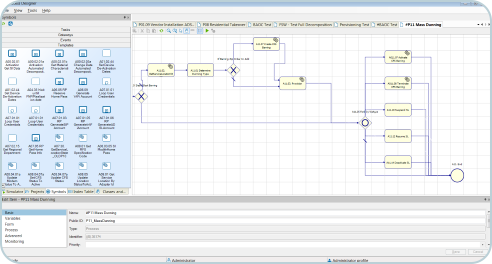 Workflow

:
Smooth flow of data between various actors of the fulfillment process
The flow of the tasks visible and displayed via intuitive any-device web portal.
Business agility among internal and external workforce resources.
Changes and development with no need to code
---
 Service and Resource Inventory:
Visibility into all parameters of services (both in terms of clients and hardware)
Registration of the services used by a customer
Reservation of the network elements necessary for the service
Perfect visibility into existing network assets
---

Provisioning

:
Fully automatic activation and modification of services
Simpler installation of devices
Automatic service locking
Increase flexibility of introducing new device types