SunVizion Network Planning & Design was created to support Cable Operators and Triple Play Service Providers in their network expansion plans. It significantly reduces the time and cost of the design, analysis and implementation of new networks.
Telecom network planning & design
SunVizion Network Planning & Design is a natural extension of the SunVizion Network Inventory solution and it's fully integrated with it. The data is
automatically imported from one system to another so the planning is always based on up to date information about current state of existing network.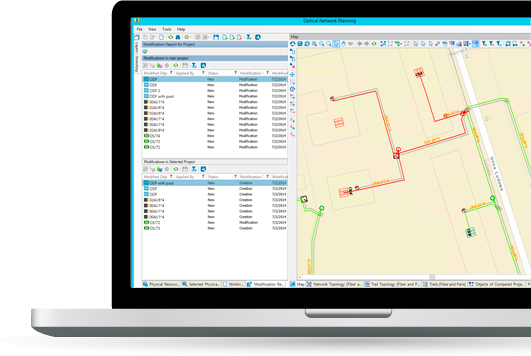 Designing - analyzing changes
Features:
Unique algorithms taking into account things like topography, existing infrastructure, possibilities of use and costs of lease of other operators infrastructure, costs of equipment and costs of transmission easement
Automatic exchange of data with network inventory system
Libraries of pre-modelled network elements and devices.
Detection of power supplies conflicts, and calculation of power consumed by each element.
Automatic generation of a bill of material report for newly designed networks.
Presentation of auxiliary documents associated with an object