A raft of new features is now available with SunVizion 16.1, our latest OSS version to manage networks cost efficiently.
Each of the upgrades, spanning across logical and physical network inventory – as well as logistics – are designed to make telcos more competitive through better utilization of resources.
Many of the new features can also be accessed over a web-based portal. This gives network operations staff much more flexible ways of working than is possible with desktop applications.
Another benefit is system-user capacity enhanced to handle thousands of users, which allows even the biggest of telcos to take advantage of SunVizion capabilities.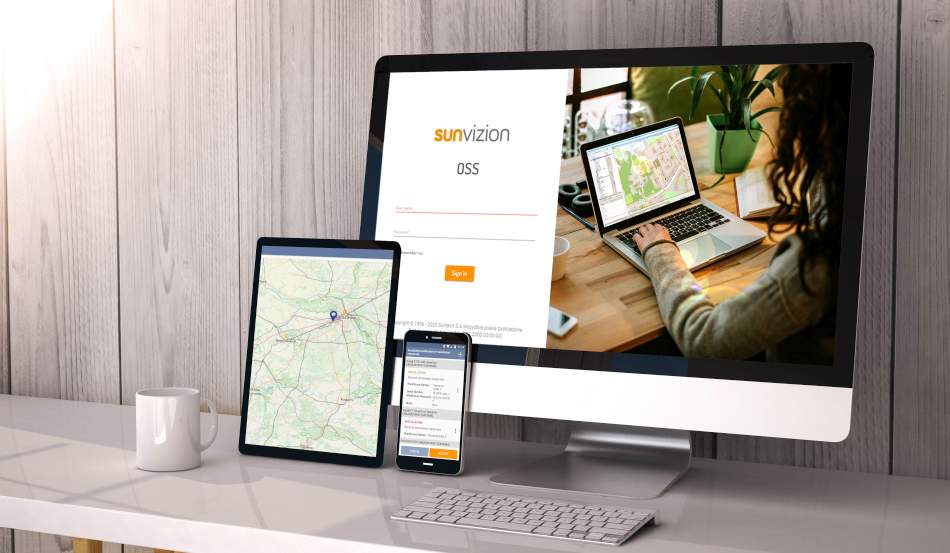 More logical
Easier Management of IP Interfaces
Paying attention to network connectivity, in parallel with physical inventory, has always been a cornerstone of the SunVizion proposition. The latest upgrades reflect that, which allows better modelling and management of end-to-end Layer 2/3 services, including VLANs, over WDM and DWDM infrastructure.
Key to configuring Layer 3 services, and properly expressing what is available in the network, is better management of IP and VLAN interfaces and sub-interfaces. The latest upgrades to SunVizion's logical inventory allow this by giving network operators a clear understanding of the capacity and utilization of IP interfaces. The accuracy of this calculation is vastly improved by taking into account the capacity impact of IP sub-interfaces when delivering services.



WDM Improvements and Ethernet ring automation
The latest SunVizion iteration also improves WDM functionality. There is a better optical channel reception mechanism, as well as WDM frequency validation when doing patch cords between multiplexers. A new and advanced search option to find WDM trails across the entire route gives ops teams much clearer network visibility.
At Layer 2, SunVizion 16.1 allows operators to create and manage Ethernet connectivity links over fiber-optic ring topologies. It's an eye-catching development. By using newly developed automation capabilities, embedded in the SunVizion OSS, operators can add and remove nodes on the Ethernet 'ring' network – as well as increase capacity – as and when required. This added functionality puts traditional OSS firmly in the shade.
Moreover, because Layer 2 topology is linked to fiber rings running underneath, the Ethernet links have added physical protection.



Flexi Grid Support
There is also OSS support for Flexible – or 'Flexi' – Grid technology. As such, SunVizion 16.1 allows ops staff to configure and monitor signals at the DWDM optical channel sublayer at different frequencies and channel widths – independently from one another – in one physical optical fibre. This flexibility gives much greater spectrum usage than is possible with Fixed Grid technology, which deals in fixed-width channels.




Better physical shape
Ready templates
Upgrades to SunVizion physical network inventory make it easier to plan and manage infrastructure rollout, whether it be large-scale 5G deployment or the automation of light trails over fiber-ring topologies. The improvements, which build on previous SunVizion iterations, make network capacity utilization even more efficient than was possible previously.
Let's take 5G. Site equipment and IP routers from vendors often arrive pre-configured, which invariably means changes need to be made for network rollout. Given the huge number of sites needed for both outdoor and indoor 5G coverage, it is essential to streamline the configuration process if total cost of ownership is to be kept check. This is why the latest SunVizion upgrades include template improvements.
Simply put, the more advanced templates allow "re-configuration" data to be inputted easily and in a standardised way, which can then make the necessary adjustments to the pre-configured equipment. The templates can be reused where necessary, which reduces workload and exposure to human error. Although ideal for 5G rollout, the new templates can also be applied to configure other network components.



Fiber ring automation and easy migration of trails
Another important new feature in SunVizion physical network inventory is the automation of light trails across existing fiber-optic 'ring' topologies, which connect multiple locations. It's a significant development, as light trails are a great way to make more efficient use of bandwidth capacity. The new SunVizion algorithm, on receiving a new connection request, can establish (and manage) light trails that can go either 'right' or 'left' on the 'ring' to reach their destination. This automatically gives them physical protection.
Nor is there any need to worry about disconnecting services when replacing network elements or re-routing traffic. With the latest SunVizion version, services associated with an old cable or network device don't need to be switched off and recreated on new physical resources. Added SunVizion 16.1 functionality preserves the relationship between the trail and the service.
Network rollout is also made simpler through a new and clever "route search" algorithm. Finding available routes for cable can be time-consuming, especially in cities and densely populated areas. The route algorithm speeds up the process.



Smarter logistics
Better workflow coordination between CRM orders, warehouses and field engineers is also made possible through SunVizion 16.1.
A new mobile feature allows field engineers to scan serial numbers of CPE equipment installed (and collected) when on site. The information is automatically fed back into the SunVizion OSS, which makes for more efficient handling of stock at warehouses and sub warehouses. The web-based portal also allows users to track warehouse resources.
SunVizion 16.1 is a significant move away from the desktop app when it comes to logistics management.