SunVizion will be introducing a number of new features in version 18.0, which is scheduled for release in Q3 2022. The main theme of this release is to make it easier to use, share and integrate, but only for authorised users. To add even greater deterrent unauthorised users, the SunVizion application stack will become even more secure, whilst ensuring web-scalability. This ensures the SunVizion system remains safe despite being made available to the public.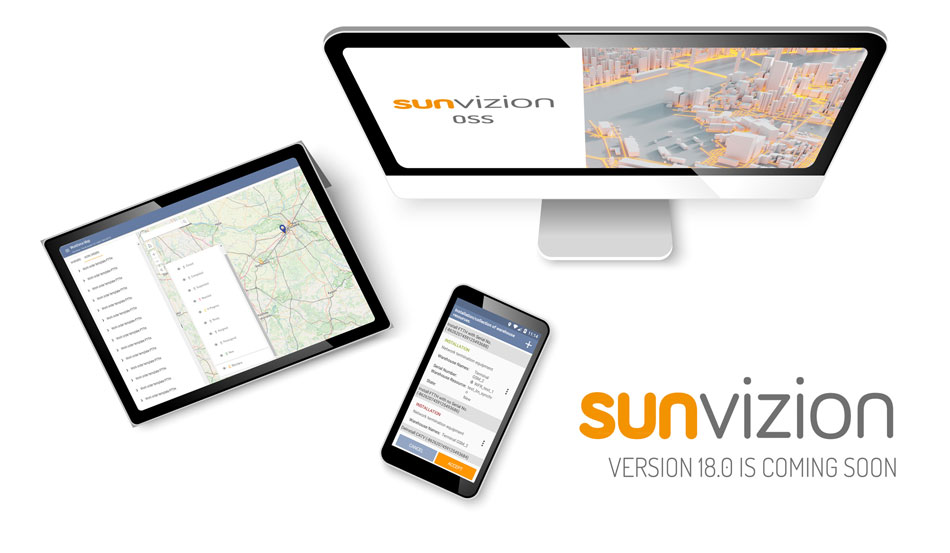 More Open
The cost of integration is an important consideration for network operators when planning their OSS and BSS architectures. And it's not just cost. Time, effort, complexity and risk are also associated with OSS / BSS integrations. In recent times, the TM Forum Open APIs have been gaining more widespread acceptance and use as a mechanism to minimise these integration burdens.
This release will introduce updates to internal and external interfaces to increase compliance with Open API standards. The following TM Forum specifications are already being adhered to in release 18.0. Additional interface development and standardisation efforts are ongoing:
TMF639 (Resource Inventory Management)
TMF652 (Resource Ordering Management)
TMF667 (Document Management)
Yet, More Secure
With global cybersecurity threats rising unabated, communications networks (and the OSS/BSS/NMS solutions that manage them) are a prime target for attack. Compounding this, the OSS/BSS market is increasingly requesting a more cloud-native, cloud-hosted network management solution to ensure greater elastic scalability. This further increases the possible attack surface for a network operator to defend. SunVizion recognises the importance of application security to protect its clients and their infrastructure.
With these factors in mind, SunVizion has developed version 18.0 in accordance with the OWASP Top Ten criteria and other security hardening mechanisms. OWASP is short for The Open Web Application Security Project. It is an open community of web security specialists and a non-profit foundation that strives to improve application security. The evolving OWASP Top Ten is broadly recognised by developers as being an important first consideration towards developing more secure web applications.
SunVizion is actively collaborating to ensure it remains hardened to repel evolving cyber threats.
More Shareable
One of the cornerstone products in the SunVizion suite is Network Inventory, which helps to manage the physical assets within an operator's network. Other components such as Network Planning and Network Roll-Out Management also leverage this physical and logical plant.
One of the primary use-cases for these solutions is network design and planning, followed through to implementation by the field workforce. In the past, external CAD (Computer-Aided Design) documents could only be manually ingested into SunVizion Network Inventory via a custom-scripted migration process. Release 18.0 overcomes this workaround. The import of CAD files can now be performed through the user interface without the need for code. This makes CAD files much more readily shareable / exchangeable than in previous versions.
More Useable
When most people think about application usability, they immediately think about the user-interface. This release will introduce some graphic design changes.
However, most of the advanced usability features won't be apparent to the SunVizion user community. Not yet at least. The more significant changes, to the user interface and the user experience, will appear in subsequent releases. The following pipeline of releases will introduce usability changes that are expected to make network operator workflows more efficient, more seamless and more intuitive (not to mention being more visually appealing).
More Roadmap
SunVizion is excited to announce release 18.0 and the benefits it can deliver to the Communications Service Provider (CSP) market.
Operators can also rest assured knowing that SunVizion has an even more packed roadmap, with an extensive array of updates, under development for future releases. Releases that are sure to add even greater business benefit for an investment in SunVizion, past, present and/or future.

Please contact us now if you'd like to discuss the implementation of SunVizion 18.0 and future releases in your OSS/BSS environment.