SunVizion Inside Plant Inventory is an advanced application designed to document and control telecommunications network devices and components. It offers hierarchical decomposition and visualization of network elements and their parameters, e.g. amplifier in cabinet, splice in a manhole, room in a building, etc.
Telecom Inside Plant Inventory

SunVizion Inside Plant Inventory comes with a libraries of most commonly used devices for different types of networks and underlying network
technologies including fiber-optic, coax, copper, radio lines, SDH, PDH, IP, WDM, GSM, UMTS, CDMA, HSPA, LTE, WiMAX, and others.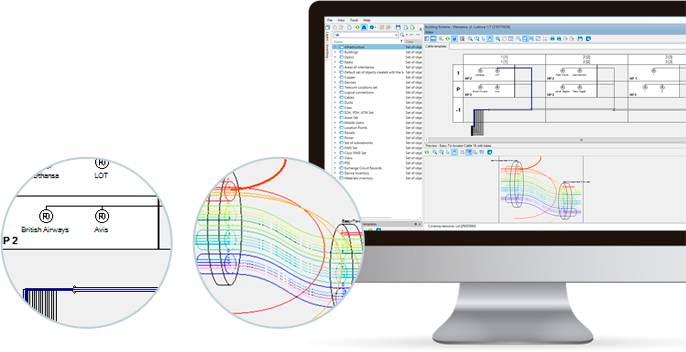 Location of service termination points within a building structure (apartments and rooms)
Positioning and connecting network elements (symbols) located inside the building
Possibility of simple replication of network segments among buildings (stairways, floors, apartments, and rooms, cellars).
---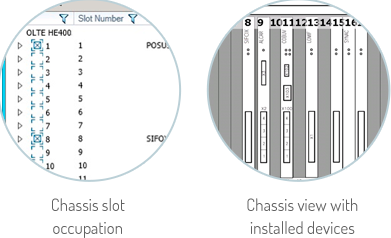 Shelf View
Presentation of object location in network infrastructure (e.g. amplifier in cabinet, splice in a manhole, room in a building)
Advanced visualization providing single view of both logical and physical network aspects
---

Equipment View
Device view presenting sub-elements and structure (e.g. router, card, downstream, ports)
Libraries of pre-modelled network elements for different types of network technologies
Presentation of auxiliary documents associated with an object (possible integration with external repository)
---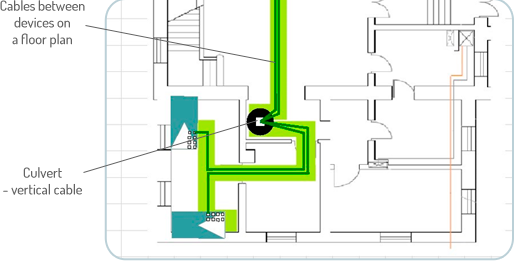 Floor plan view
Presentation of network elements on floor plan views
Hierarchical decomposition and visualization of building and network elements and their attributes, e.g. stairways within a building, apartments and floors within stairways, splitter location a building, amplifier in a cabinet, etc.